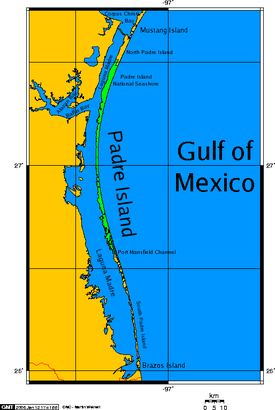 Texas
Padre Island
Did you know?
Did you know that Padre Island is the world's longest barrier island? Texans generally love to boast that everything is 'bigger and better' in Texas. Sometimes this is just eager pride and sometimes it's truly fact as it is with Padre Island. Padre Island, the world's longest barrier island extending some 130 miles along the coast of South Texas, has the longest sand beach in the United States. The north end is just east of Corpus Christi (at 27°37' N, 97°14' W), and the south end is opposite Port Isabel (at 26°05' N, 97°08' W). The island is separated from the mainland by the Laguna Madre and connected to the mainland at each end by causeways. It is divided by the dredged Port Mansfield Channel, which provides shipping access to the Gulf Intracoastal Waterway and to Port Mansfield from the Gulf of Mexico. Padre Island comprises a total of 133,918 acres in Nueces, Kleberg, Willacy, Cameron, and Kenedy counties. A belt of dunes twenty-five to forty feet high runs along the Gulf side of the island. Nowhere is the island more than three miles wide. The island was formed by the slow, ongoing process of sea erosion and deposition. A large variety of shells has been washed ashore on the island, and other objects from rivers and from the Gulf have been deposited in fine silt and sand on the island
Texas GDP ...
San Jacinto Monument ...
We hope you enjoyed reading the list above about the most interesting facts about Texas. If you have any additions to my list or just want to put in your two cents worth, just click here My 2 cents.